Your website is a good sales tool. But we can make it even better!
A personal account for the user is the same necessity as a well-equipped workplace – it is a kind of ecosystem where the user has everything at hand, and making an order becomes a convenient and pleasant habit. How does the monetization process take place and how to get a personal account for your site? You will learn about all this in our article!
What is a personal account for your website and what is it for?
The client's personal account, aka Client Space, is a tool with which you can convert traffic directly on your website. In the account , students can place and pay for orders, view the order history, add additional materials, communicate with support if necessary, and use the loyalty system. A personal account is available in the format of a White-Label template for users who do not yet have their own website or in the format of a separate solution for a ready-made website.
Benefits for the client:
1. Control over purchases: in the account, the user can find out the status of the order and payment for it.
2. The main communication channel at hand: communication through a personal account is the most popular and effective method of communication between customers and support.
3. Repeat orders: Thanks to the history saved in the account, the buyer can make repeat purchases as quickly and easily as possible.
4. Bonuses: in your personal account you can see the previously received bonuses for purchases, individual discounts and promotions, etc.
5. Full control of your personal account: managing mailings, connecting optional services, changing personal data.
There is a lot to say about the benefits of implementing Client Space on your own website for an affiliate, but we will stop on the most effective ones:
1. Customer behavior analysis: By tracking activity in Client Space, you can better understand the directions for improving campaigns and optimizing traffic. The ability to track the real demand of regular customers is also available.
2. Increasing customer loyalty and reducing the sales funnel: the majority of users "disappear" at the stages of redirecting from your website to offers. Redirecting users from one site to another causes some annoyance and distrust, which cuts down on conversion rates. Client Space on your website increases customer loyalty and increases traffic conversion.
Why is Client Space an effective tool?
We created Client Space after much experimentation and testing. This tool was created based on our experience, which made it possible to make it as effective as possible for you:
1. Basic data is sufficient for user registration. Only email and password are required. It is possible to log into your account using your Google account.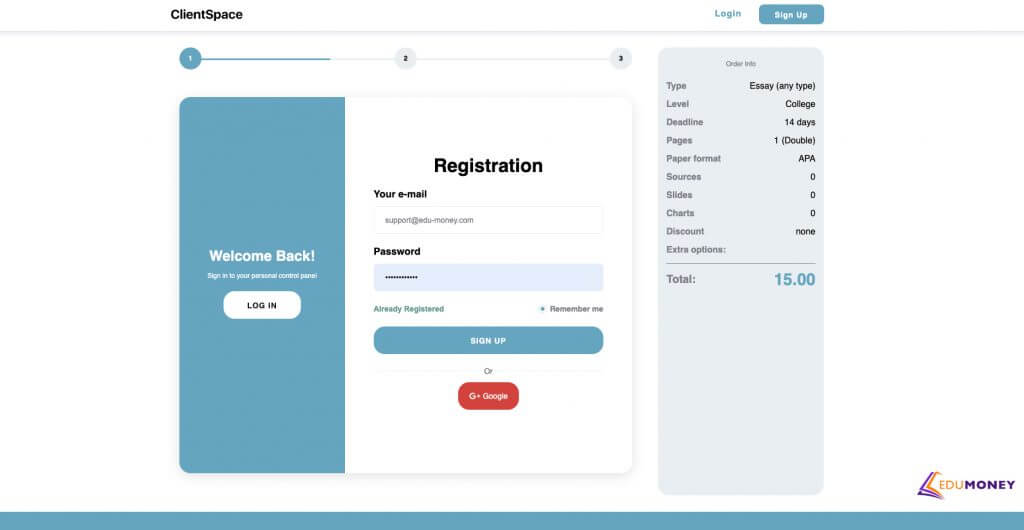 2. We understand that security and privacy are very important to our users. We approached this issue responsibly and took all the necessary measures so that customers could safely pay for orders.
3. We focused on functionality and conciseness. As a result, the appearance is neat, comfortable and strict. It is possible to add your own logo.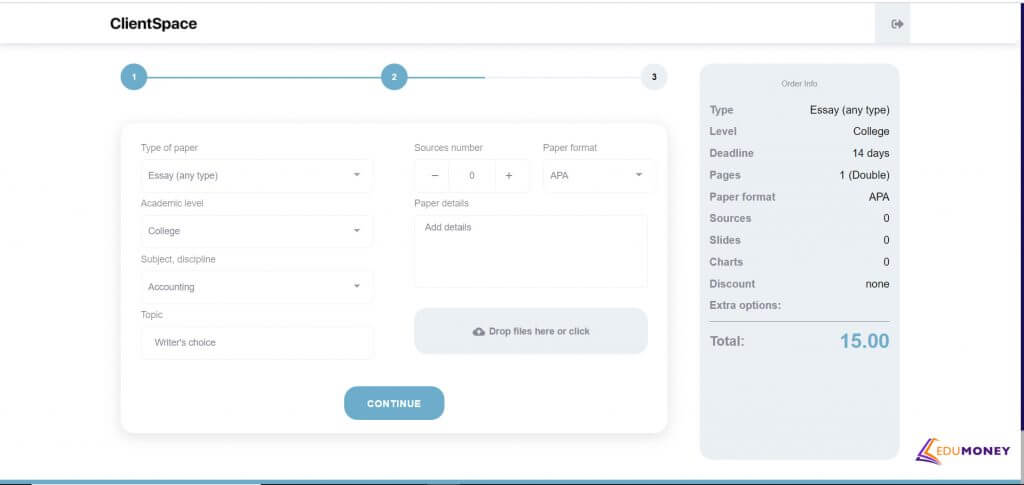 4. In the menu of the user account, the emphasis is placed directly on the target action: purchase, information about the order, previously made orders and bonuses. Special offers, promotions and a loyalty system help motivate the user for subsequent purchases. For example, in Client Space, we have placed the Discount tab, where the user can see detailed information about all possible benefits: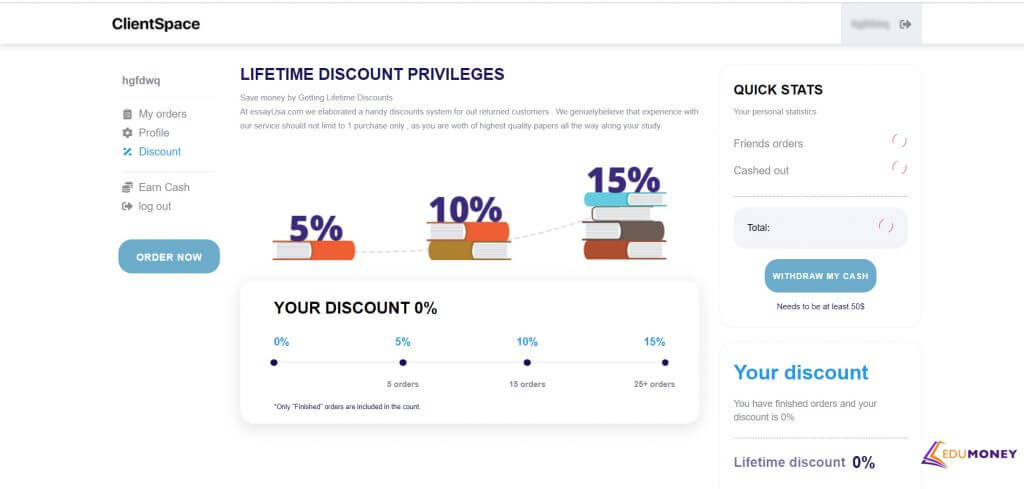 5. Possibility of additional income for clients. You can share the link with a friend and get 10% from their purchases: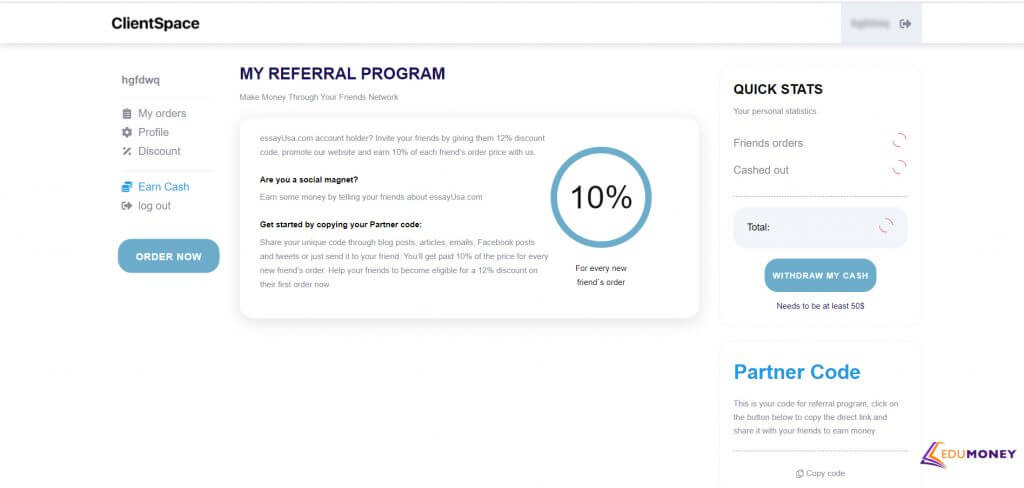 6. During the development of Client Space, a maximum of communication channels were provided. The support service works 24/7.
7. We made life easier for the user in case of password loss. The account access recovery system is simple and reliable.
The professional team has created this tool and supports it at all stages.
How to get Client Space to your site?
The installation plan is very simple:
1) It is necessary to register in the Edu-Money affiliate program.
2) Then, contact the manager who will activate your personal account, send additional materials if necessary, and help with the installation.
3) If you do not have your own website yet, then you can download the White-Label template with Client Space in the "Promo" section, the "Website templates" section, and the "White-Label WP template". And if you only need Client Space, then in the "Promo" section you need to go to the "Client Space" section and download the folder with the files. After downloading the file, you will find the ReadMe file in the folder, which serves as the installation instructions.
4) Testing and getting started. We advise you to create a free order at the first setup to check the correctness of the functionality.
5) If necessary, we provide ongoing service and support for your project.
Conclusions
Over the course of 4 years, we have created many sites of various types, and on most of them a system with personal user accounts was implemented in one way or another.
A customer who is satisfied with the service will definitely recommend it to their friends, which helps to attract subsequent customers without spendings through word of mouth. Client Space helps to set up a relationship with a client and provide them with everything they need to complete an order. Therefore, cooperating with us is comfortable and beneficial for you!
Installing Client Space for your site is definitely worth it. This tool has many advantages that make it an ideal solution for monetizing student traffic. You can receive from 55% for the first purchases and from 20% for the repeated purchases of the client through the RevShare system. By CPL, our partners earn from $10 per lead. Register and get Client Space now! And with superior product quality from Edu-Money, you have every chance of building your own profitable brand in the custom writing niche.