Hello everyone, Edu-Money is with you and today we will talk about TikTok. We've all heard about the popularity of this app and the ways you can easily get a lot of free traffic there. While some people are talking, others do not waste time and quickly come up with ideas to monetize this modern "virus". Let's take a quick look at what this application is and how to make money on it in 2020.
A quick dive into the topic
At first, TikTok gained immense popularity among American teenagers, and then the whole world learned about it. It's been two years since TikTok overtook Instagram and it is still at the top of free downloads. TikTok's simple idea is to create a 15 second video. This app very nicely combines the advantages of Instagram, Snapchat and Vine. Users create clips, reactions to trends and sketches, or go live. Like many other social networks, TikTok uses artificial intelligence to analyze the interests of its users. On average, the TikTok audience visits the app 7 times a day and spends 48 minutes there. Audience engagement is at a high level and amounts to 27%. According to SimilarWeb, 138 million users visited the app in January 2020. Residents of the United States make up 26.27%, and 52% of them use iPhone. The total user base comprises 50 percent of male and 50 percent of female members. The young generation, which is our target audience, turned out to be the most active, including high school, college and university students. With 43% of users in the 16-24 age range, and 90% of users using the app every day, this social network seems attractive to monetize in the custom writing niche as well.
How TikTok works
 You can view the content without registration, but in order to use all its benefits, you will need to create an account. The way TikTok works is similar to popular social media networks: everyone collects likes, views and comments on this platform. You can upload ready-made videos from the gallery to the feed and edit them in the application. You can also add filters or music and adjust the video speed. Now, let's move on to the analysis of monetization. The most important point here is the impossibility of placing clickable links, but we will tell you how to get around this restriction. We suggest considering several basic advertising options for this:
Creating a TikTok Ads account and advertising by means of bypassing the minimum amount of $ 500
A new and still effective method has to do with creating an ad campaign on TikTok Ads. There is a limited number of GEO available at the moment, but you can compensate for this by targeting language, age and device type. When creating a campaign, choose the first option – business, promotion of goods/services.
After filling out the form, you will receive an email in which you will be asked to send more detailed information: place of registration, company name, target markets/regions, business volume (main products/services), campaign goals, estimated budget, potential audiences. You can simply take data from the internet, and in a couple of days, you will receive confirmation that you can now run ads.
The minimum cost of an advertising campaign is $ 500, but if you do not indicate the amount in the corresponding line, then you can bypass this rule and start with a budget of even $ 20. The user can choose the day of the week and even the time for displaying the advertisement. The last parameter will be 20 keywords that the algorithm uses to find your target audience, and we have already prepared a list of verified relevant keys for you.
To get the current keys, you need to contact our manager. In the case of a ready-made audience, you can upload indicators of the users of interest to TikTok in TXT, ZIP file or CSV format. There are 3 main goals available: views, clicks and conversions. We recommend disabling comments at the start of your advertising campaign to prevent spamming.
Advertising in TikTok through Yandex Direct for the Tier 1 countries
You can also run ads through Yandex Direct and they will be displayed on TikTok. Create an ad in Yandex.Direct and it will adapt to the format of the application. It is also possible to add music and special effects. Your ad on TikTok will be displayed with an "ad" tag. In Yandex, you can select the required audience by GEO and interests.
Seeding advertising
Seed advertising means placing a large number of posts with the aim of connecting to the largest possible reach. Ideally, when one of your ad posts hits recommendations, the snowball effect kicks in. The audience there is young and the majority of users are pupils and students. You need to create content that might interest them and then redirect everyone to Instagram or YouTube.
TikTok currently doesn't have the option to leave clickable links. For example, our affiliate fueled the interest of students in TikTok, and then sent everyone to Instagram where he could convert part of the audience. Eventually, users proceeded to the offer through the link included in the bio. Since the custom writing niche is gray, it is necessary to use a pre-landing. We provide pre-landers to all our partners for these purposes. There are also options for duplicating content from Instagram and posting it in TikTok. The audience is not yet fed up with advertising and almost any content can bring promising results.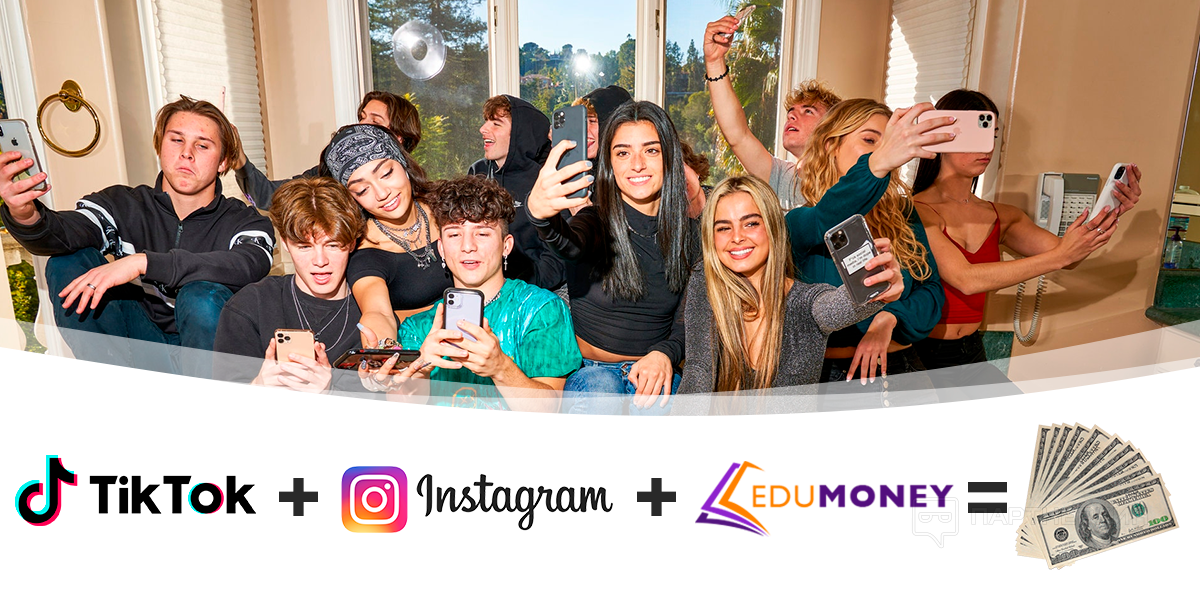 TikTok ad optimization tips
It is important to pay attention to the quality of the visual content because high-resolution images and videos work more effectively. You need to place no more than one call to action in your ad campaign. A large number of actions can confuse a potential buyer. You can leave text up to 80 characters in your post. There are also options for applying watermarks to the image, but do not expect the audience to retype the name of the site. Either way, the call to go to Instagram always works best. It is also better to place text in the center or top. At the bottom, it will simply be blocked by hashtags. We recommend leaving at least 5 hashtags. TikTok has an ever-growing audience that is not overloaded with ads, so you have every chance to be a pioneer and hit the jackpot in monetizing student traffic.
Conclusions on TikTok Ads
You can use TikTok to tap into different verticals. You can get started with minimal targeting knowledge and an ad budget of as little as $ 20. It is possible to test a variety of bundles and approaches. We are confident about the potential of this resource in the student niche, because TikTok is a trend, and young people spend their free time there. We would like to help everyone with tips and promos. We will generously pay for the clients you refer to, who are assigned to you forever and bring passive income for two years. With Edu-Money, you can earn dollars on TikTok. We wish you converting traffic.